FUE Hair Transplant in Malaysia
(Follicular Hair Transplant)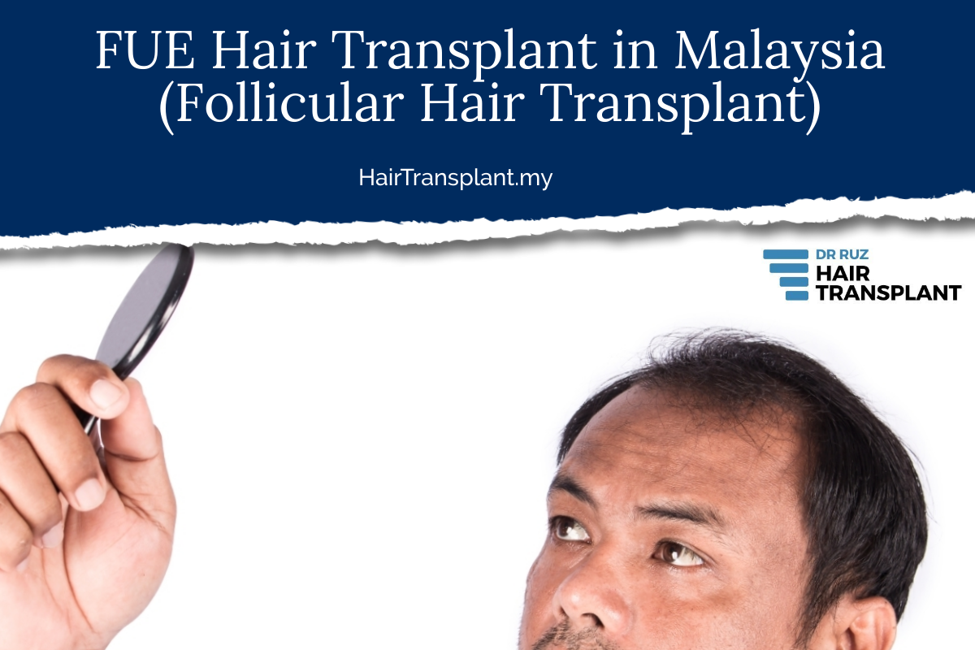 Hair transplantation has dramatically evolved over the last five decades. Throughout its evolution, various hair transplant techniques have come and discarded. Today, the most common type of techniques include single strip excision with stereo microscopic dissection of the excised strip and follicular unit extraction, or more commonly known as FUE. Over the last decade, FUE hair transplant in Malaysia has become more popular than other transplants, and it has completely transformed the transplant surgery and its outcomes.
What is an FUE hair transplant technique?
Follicular Unit Extraction, or FUE, is a hair transplant is a relatively new and minimally invasive procedure in which follicular grafts, consisting of a small number of hair follicles, are removed from the donor areas (genetically stronger areas of your scalp) and artistically restored to the recipient area (thinning regions). The procedure is carried out by plastic/cosmetic surgeons or other hair transplant specialists.
How is FUE performed?
Your plastic surgeon or hair transplant specialist will remove the individual follicular unit from the donor site (back of the scalp in most cases) using a tiny, one-millimeter in diameter (or less) instrument. The device makes a small circular incision around the follicular unit to collect the graft. Using the tweezers-like tool, the graft is then extracted directly from the scalp and prepared for placement.
Working with high-powered microscopes, your physician will isolate and prepare the graft and ensure that it remains in optimal condition. Follicular grafts are arranged into groups – depending on the number of hair strands contained within each follicle (usually, there are 1 to 4 hairs are commonly found within each follicle). The accurate placement of these follicular grafts is what sets the stage for natural-looking results and artistic differences.
Of note, FUE involves the latest, minimally invasive technique and advanced grafting. Your physician can help you determine which specific technology or technique is best for you – depending on various factors such as vascularity (blood flow) of the scalp, overall health of donor hair strands, and the size of the recipient area.
Other hair transplant procedures are either more invasive or have more side effects – two primary reasons why people love undergoing FUE hair transplant.
Why choose FUE over other hair transplant techniques?
A qualified physician performs an FUE hair transplant procedure. These professionals are experienced and have dedicated their practice exclusively to hair restoration. Hair transplant specialists are highly skilled in the time-tested process of natural graft placement, where they recreated your hairline in keeping with your original hair growth pattern to give you a natural-looking result.
Following are some benefits of FUE hair transplant procedure
Natural-looking and permanent results
Simple outpatient procedure – requires no spinal or general anesthesia
Involve no stitches
State-of-the-art minimally invasive technique
Donor area appears mostly unchanged within days
Fast recovery; more than 90% of patients return to work the next day.
Take Away
FUE hair transplant ensures a natural-looking hair appearance, and the donor area appears mostly unchanged. Just as in any surgical intervention, you must consult an experienced doctor, who specializes in the field of surgical hair restoration. Furthermore, make sure to exercise due diligence while researching various air transplantation operations. Every hair transplantation method may have some particular advantages, disadvantages, and side effects.